HUSH
Secret Management For Slack
Protect your senstive data in Slack with one simple command. Hush makes it easy to share private information with your team with end-to-end encryption.

Type to encrypt your secret.
Keep Work Flowing Securely
Create a unique one-time link to a password, pre-shared key, license key, access token, you name it.
One Time
Type /hush followed by your sensitive information and post it. Get a unique one time url that you can share with anyone from your team. Once the secret has been viewed, it's deleted and can't be read by someone else later.
Self Destructing
Once opened the encrypted secret is automatically deleted from your system - and ours - so you never have to worry about secret theft or hacks. If unopened the secret is automatically destroyed after 10 minutes.
Secure
Your secret is encrypted using AES-256 encryption. Our system is end-to-end encrypted ensuring that your data is protected by the latest security standards.
Hush Makes Slack Secure
A secret link works only once and will dissapear forever. Keep sensitive information out of your Slack history.
Let's get started
A Great Way To Share Secrets
Our service encrypts the secret and seals it behind a link that can be opened just once. If the link recipient is unable to open the secret, it expires in 10 min.
Add To Slack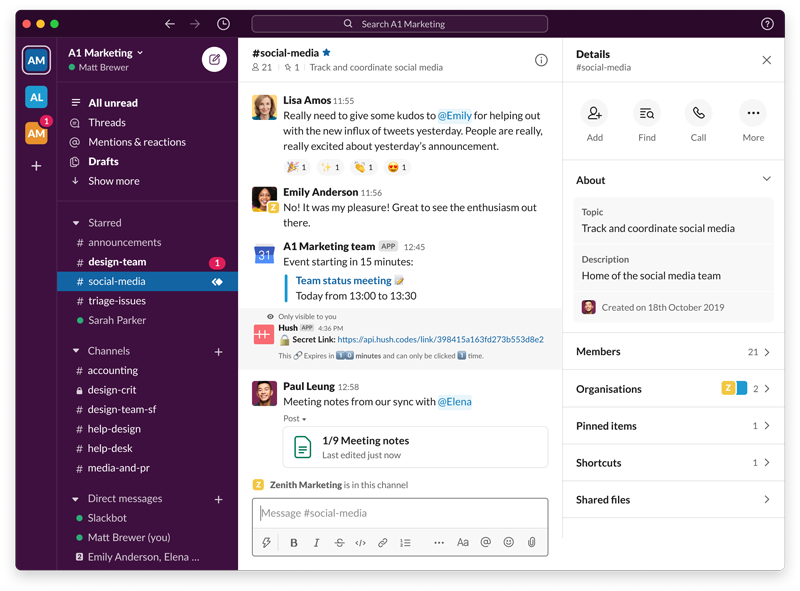 Simple pricing for
unlimited access.
Choose the best plan for your business.
Try free, no credit card required.
Unlimited
Unlimited secrets
Monthly updates
3 Users ($2/additional user)
Premium support
Free
Up to 5 secrets
Basic support
Helpful answers
We know there's a lot to learn and read about all that Hush can do. Here are some of the most frequently asked questions.
How long do my secrets last?
Hush secrets expire after 10 minutes so you can set-it-and-forget-it with secret key sharing.
How secure is Hush?
All secrets are encrypted with AES 256. AES-256, which has a key length of 256 bits, supports the largest bit size and is practically unbreakable by brute force based on current computing power, making it the strongest encryption standard.
How many secrets can I send?
On the free plan you can send up to 5 secrets a month. On the paid plan you can send an unlimited amount of secrets.
Do you support AWS KMS?
By integrating with Key Management Service (KMS) in your own AWS account, Hush gives you tighter control over access to data. Use KMS in your own AWS account to create a Customer Master Key (CMK) that always stays under your control. Then, using key policies, you grant Hush access to use your CMK to generate and decrypt data keys. Please reach out to hello@hush.codes and we will enable this for the enterprise account.
Can I share a secret in a Slack channel?
You can share a secret in a channel and it can be accessed by the members of that channel - but your secret will expire after 10 minutes.
Can I retrieve a secret that has already been shared?
Nope. We display it once and then delete it. After that it's gone forever.